James L. Collins Catholic School relies on the caring support of donors to fund program enhancements and improvements, as well as tuition assistance. Family contributions and fundraiser participation are vital to the school, and every dollar given through these avenues is spent exclusively here.

Contributions can also help secure outside funding for the school from foundations and corporations. Those groups review the percentage of alumni, faculty, and parental participation, which serves to demonstrate that the families of the school and supporting community believe JLCCS is important and worthy of support.

We greatly appreciate the financial generosity of alumni, parents, parishioners, grandparents, and friends and thank you on behalf of current and future students.

Direct Donations to JLCCS
The Pastor's Scholarship Guild
The Pastor's Scholarship Guild focuses on individual merit-based scholarships awarded to children. With your donation of either partial, half or full tuition payment, you may name a particular scholarship and determine its criteria. These scholarships will be applied for and awarded at the close of each school year, applicable to the following academic year. Donate Online Now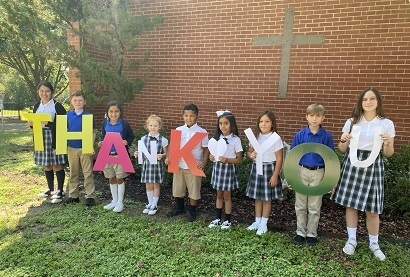 Cornerstone Club
Join the Collins Catholic School Cornerstone Club and make your gift to the school on a recurring schedule. The Cornerstone Club is named for our school's four cornerstones - faith, involvement, integrity, and respect. Choosing to spread your support throughout the year is an easy way for you to plan your donations into your personal budget. Giving monthly allows you to contribute a desired annual amount in smaller, more manageable increments. Your recurring gift can be scheduled for several months, a year or it can be left open-ended. The Collins Cornerstone Club provides a dependable source of income for our school so we can continue our mission and help our students get to college and heaven. Donate Online Now

Annual GAP Campaign
Annual GAP Giving is the foundation for all of our fundraising and parents, alumni, grandparents and friends of JLCCS all play a vital role. Your gift, no matter the size, is so important. Participation in Annual Giving is frequently used as a benchmark measurement of a community's strength, making support at any level especially powerful. The Annual GAP Campaign, held every year, bridges the difference between what is charged for tuition and actual costs incurred to educate each child to run the school. The Annual GAP Campaign's purpose is to meet expansion needs and to provide enhancements to our school's educational programs which are not covered by tuition. Donate Online Now

Matching Gifts
Employees, retirees, and their spouses may be eligible for the matching gift programs offered by many companies. This could more than double your total gift to JLCCS. Don't forget to check with your Human Resources department to see if your company has a matching gift program. If your company has a matching gift program, just let JLCCS know and we will be happy to coordinate.

Additional Ways to Give

Pride through Excellence
Pride through Excellence is an Educational Foundation that solely supports our school. This foundation accepts monetary, property, and/or other donations designated for the school. For more information, please contact JLCCS.

Amazon Smiles
If you shop online with Amazon, please designate J L Collins Catholic School as your charity for the Amazon Smiles program. AmazonSmile is a simple way for you to support JLCCS every time you shop, at no cost to you. AmazonSmile is available at smile.amazon.com on your web browser and can be activated in the Amazon Shopping app for iOS and Android phones. When you shop at AmazonSmile, you'll find the exact same prices, vast selection and convenient shopping experience as Amazon.com, with the added benefit that AmazonSmile will donate 0.5% of your eligible purchases to JLCCS. On your first visit to smile.amazon.com , you need to select J L Collins Catholic School to receive donations from eligible purchases before you begin shopping. Your selection is remembered, and then every eligible purchase you make through AmazonSmile will result in a donation. AmazonSmile customers on Android devices with version 5.0+ or iOS devices with version 12+, who have upgraded to the latest version of the Amazon Shopping app can find "AmazonSmile" listed in the Settings menu. From there, you can follow onboarding instructions to activate AmazonSmile on your device.
Go here to select James L. Collins Catholic School as your Amazon charity.

Box Tops
Earn additional funds for JLCCS by scanning receipts for Box Tops for Education from a variety of General Mills products. Each Box Top submitted earns $.10 for James L. Collins. Download the Box Tops App on your phone and then scan in your receipts to find participating products. The app will automatically credit our school and twice a year, our school will receive the funds. Go to https://www.boxtops4education.com/ for more information or download the Box Tops for Education app. This is a simple way that you, your family, and friends can regularly help our school.
CiCi's Designated Pizza Nights
Help raise money for JLCCS every month, all year long by eating PIZZA! That's right! Here is what you do: Go to CiCi's on Monday – Thursday 4-9 p.m. and mention James L. Collins Catholic School at the register. Enjoy all the pizza you can eat! CiCi's will give back 20% of your net sales to the school! Raising money has never been easier!
All financial donations can be mailed to:
Attn: Development
James L. Collins Catholic School
3000 West Highway 22
Corsicana, TX 75110